Golden Bay is a great holiday location for those interested in the outdoors, arts and craft, relaxing, craft beer, fishing and more. Below are a few of our favourite attractions of the many that the area has to offer. For a full list of attractions visit the local i-site.
The Outdoors
Rocky Ridge
Rocky Ridge is situated on a 2000 acre sheep farm. This farm provides an abundance of native flora, fauna, marble outcrops and stunning 360 degree views. If you plan to venture a sizeable distance on the farm, be sure to contact the hosts for safety reasons.
Golden Beaches
Ligar Bay and Tata Beach are a 15 minute drive from Rocky Ridge Cottage. Ligar Bay is a perfect spot for a young family as the ocean has shallow water and great barbeque areas. When the tide is out, Ligar Bay provides one of the best beach cricket locations in the area. Tata Beach is a popular beach for boaties, with a boat ramp and designated boat lane. During summer, you will find the beach populated with skiers, ski biscuiters,  swimmers, snorkelers and those looking for a tan on the golden beach.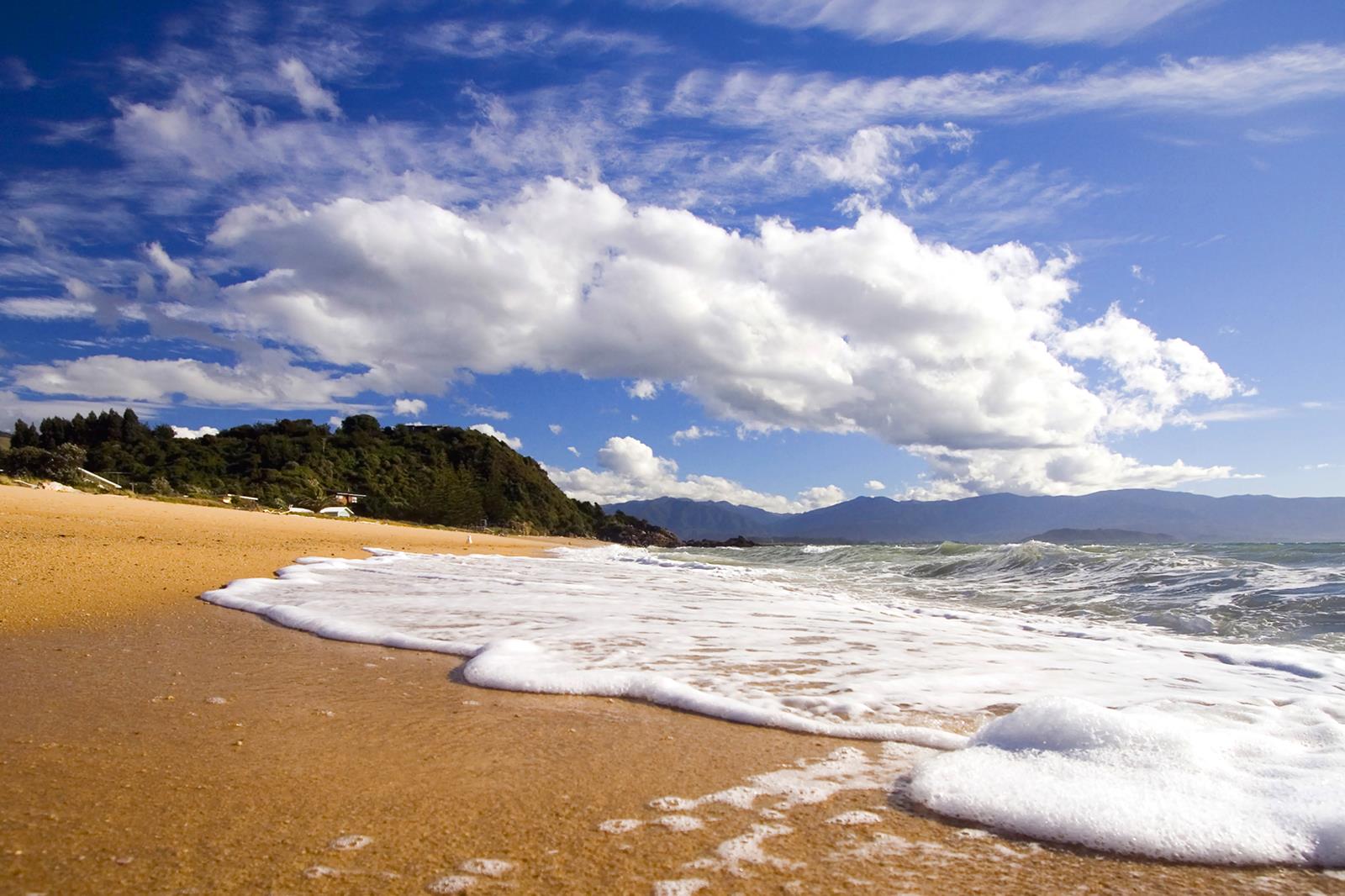 Wild West Coast
The west coast of Golden Bay which is an hour's drive from Rocky Ridge Cottage offers a uniqueness which cannot be seen in many other places. The windswept environment is home to many native animals and birds. Large sand dunes have been formed over thousands of years and can provide hours of entertainment for the young ones. Be sure to take out appropriate sliding devices.
Farewell Spit
Farewell Spit is home to many migrating birds that cannot be seen anywhere else in New Zealand. Farewell Spit is only accessible via tours. Click here for details.
Great Walks of Golden Bay
Because of Golden Bays coastal location and being surrounded by two National Parks, the area provides many picturesque walks. For a list of the many walks available in the area, click here
Paynes Ford
The Golden Bay limestone creates great rock climbing, with Paynes Ford being the pinnacle of this. The climbs range in difficulty from grade 10s which are perfect for any fit novice to grade 30s. There are 240 routes available. During summer, this area also provides a very popular swimming hole in the Takaka river.
Totaranui
Totaranui is at the heart of the Abel Tasman National Park. The area is renowned for its golden beaches and unspoilt native bush. Only an hour's scenic drive from Rocky Ridge, Totaranui is a great day trip.
Nearby Attractions
Rawhiti Cave
The Rawhiti Cave Track is a one hour walk running beside a river and then winding up the side of hill. The views of the cave after the walk are truly magnificent. The start of the walking track is located just a 2 minute drive or 20 minute walk from Rocky Ridge Cottage. For further information, click here
Rameka Mountain Bike Trail
The start of the Rameka Bike Trail is only 1 km from the cottage via access through the farm. This option will take you to the bottom of the track where you follow the Rameka Creek road to the top of  the trail. Alternately, the track is accessible from the top of the Takaka Hill and this offers a 3 hour bike ride. This track offers a gentle mountain bike ride for the less experienced and offers technical sections for the more advanced. At the top of the track, views out over Golden Bay are superb, the forest rich in birdlife and there are many places to stop along the way and enjoy lunch. For further information, click here
Places to visit
Anatoki Salmon
Anatoki Salmon offers a unique fishing experience at very affordable prices. At Anatoki Salmon, you catch your own salmon and have your salmon prepared with a variety of options. During the holiday season, this is a very popular attraction within Golden Bay. For further information, click here
Wild Earth Nature Park
Wild Earth Nature Park is a great location for dining and seeing many of New Zealand's native farm animals. It is also home to the ancient Anatoki eels which may be fed. For further information, click here
Rosie Glow Chocolates
Rosy Glow sells couverture chocolate from a pink villa in Collingwood. It's a delightful little chocolate shop with equally lovely staff. No trip to Collingwood is complete without indulging in the finest chocolates in the area.
Mussel Inn
The Mussel Inn is located in the heart of Golden Bay and provides a unique social and dining experience. All the beers, ales, ciders, soft drinks and occasionally spirits and house wines are produced in the brewery behind the inn with the beers being renowned country wide for their taste and uniqueness. There are no TV's, pool tables or pokies at the Mussel Inn so when you go for a social evening with friends and family, it is just that.